Maren Juell Kristensen lives and work in Oslo.
More info: www.marenjk.net
FULFILLED
Video projection on to shop front window. Duration: 3:50 min
The shop is filmed at different times of day as it was when I found it.
It is empty, as it has been for a long time.
WISH
Slit drape. Video projection. Duration: 1:15 min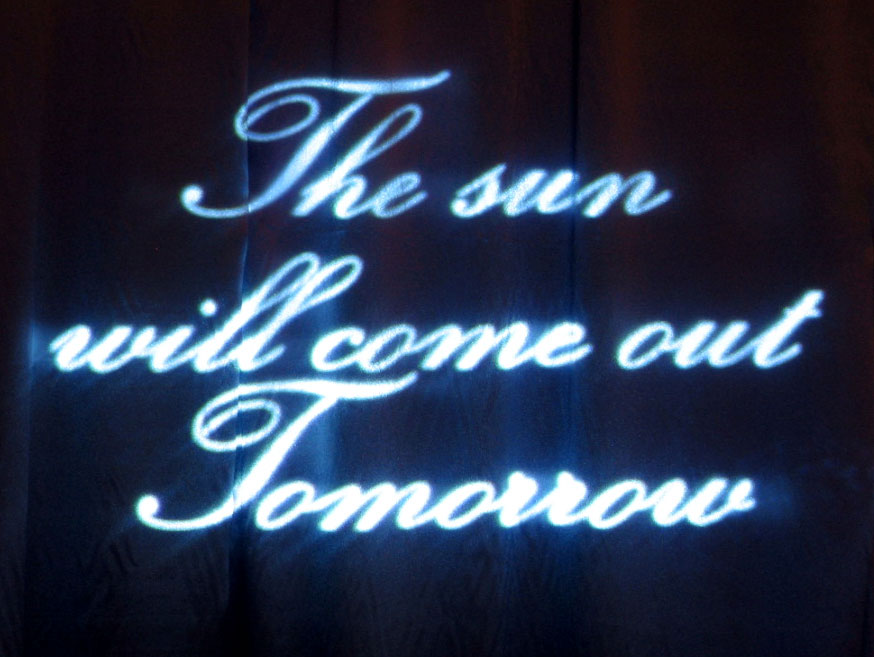 The first or the last line from famous Hollywood musicals and movies lyrics (Pinocchio, The Wizard of Oz, Annie…) are written in light. Emphasis is put on the belief that is propagated in do much of today's media; that if you just want it enough – it will come to you . In a world where more people than ever want to work in media, entrainment industry, and the arts (and the borders between these areas blur) Maren question the likelihood of success - and the romantic notion of hope.
ENTRÉE
Video-projected light, sound. Duration: 0:30 min.
But the magician does not make an entrance. 'Galleri Oslo' could use a magician, or someone to cast a spell over it- create a bit of magic. The decorative green plants in the flowerpot are the main focus for this piece. But they play no main part; they are just a setting, something you barely pick up while rushing past. By the use of moving lights and a drum roll that last too long the intention is to amplify an everlasting feeling that certainly something must happen, someone must arrive this empty stage.